We all have a dream house in our minds. It may be something you saw in a book or a movie as a child, or perhaps you've been inspired by great architecture. Maybe travelling the world has given you ideas of a log cabin in the woods, an eclectic boathouse or a light, minimalist space? We've rounded up some of our favourite, most unusual houses from around the world. These incredible places show that some people will do anything to turn their dream house into a reality!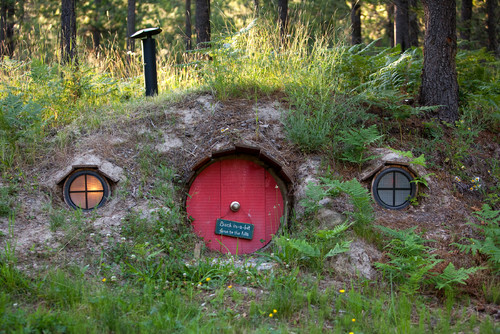 How cute is this Lord of the Rings style home? This house, built in Montana, is a replica of the Hobbit houses built for the popular Lord of the Rings movies in New Zealand. The house is actually built into the ground and is a fully functional living space. Lord of the Rings movie enthusiasts will love this one!
This quirky, contemporary California home, designed by architect Fred Herring was built right into a challenging hillside landscape! We love the different shapes and compartments in this home nestled into the landscape. Would you live here?
This completely transparent does not leave much to the imagination! This quirky home in Japan is made up of white steel structure and plenty of glass windows. Each level can clearly be seen from the street and by the neighbours. Definitely one of the most interesting houses on the list. Would you live here?
Now you see it, now you don't! This quirky tree house is completely mirrored and almost invisible amongst the trees. This futuristic home reflects the sun, trees and forest life around it while being eco-friendly. Nestled among the trees in Sweden, this is definitely one of the coolest houses on the list.
Unofficially the biggest treehouse in the world, Horace Burgess's Treehouse in Tennessee is a whopping 97 foot tall. Now closed to the public, the treehouse was once a popular local tourist attraction . The imposing treehouse is almost 10,000 square feet in size and was built on an 80-foot-tall white oak tree. Could you imagine living here? It's a Disney Tarzan dream!
A hotel as opposed to a house,  this converted Boeing 747 in Costa Rica brings sleeping on the plane to a whole new level! About to be sent to the scrapyard, the imposing plane was rescued and redesigned as a luxury hotel suite. It's £300 a night BUT flight fans can play captain at the front of the plane as well as enjoying the beautiful Costa Rican forest around you.
We love this home's quirky design and funky exterior. This 'eyebrow' house is some of the most interesting architecture we've seen. The house which featured on the popular TV show 'Portlandia' is a renovation of a traditional 1941 Cape residence.
Finally, this bright and artistic mosaic home in Venice, California is a truly unique house. Mosaic, paint and even mugs decorate this eccentric home. This house speaks for itself, and is probably the most colourful house in the world!
Leave us a comment and let us know your favourite, least favourite or if you know of some interesting houses that we missed in this post. Make sure you head over to our Pinterest for more intriguing housing and daily interior inspiration!